Customer Experience - Rescue Management
This is a guided visual analytics application for a customer engagement use case from an automobile rescue company. The problem use-case from the business team is the lack of insight into how different types of customers, different locations and different products are performing, and identifying the root cause of why positive customer engagement is dropping and customer churn is on the increase.
Today I am going to show you a small part of our user-centric design process for visual analytics and highlight how powerful visual analytics is compared to legacy business intelligence methods.
To keep this short, I won't cover the end to end process, and will instead focus on how design concepts and illustrations are created.
Our example company is "called Rescue Management", and the CEO has asked her Chief Digital and Data officers to work with the customer services lead, to identify why churn is increasing. The customer services lead knows that it isn't possible to mitigate all customer concerns without drastically increasing costs, so has also challenged the data teams to help identify who the high value customers are, in order to help focus and prioritise escalations.
If this were a typical BI project, then a business analyst would usually kick off a requirement gathering phase before doing some data analysis to see what data is available. Our process is different; we focus on speaking with the end users and learning about their business processes - identifying how analytics can seamlessly integrate into their existing workflows to reduce the overall work effort through automation, efficiency and new insight.
In our initial design we have chosen to focus on 2 user groups for the first iteration: a senior executive dashboard, and a targeted customer services analysis canvas. With visual analytics, you don't have to solve everything straight away; an iterative process, which brings new features and functionality into the guided app in future releases, is much more effective than trying to design and build everything for version 1.0.
To speed up delivery and time to value for Rescue Management, we are using one of our custom open source templates; we've done this to create an illustration of a guided application, in order to keep everyone aligned on what we are trying to achieve and remove the requirement for anyone to read our designers' minds. We have chosen a full-page canvas with the first full-screen page focused on the top level KPIs the executive currently uses, with some added functionality around trends to partially answer the 'so what' questions everyone should ask themselves when presented with a number.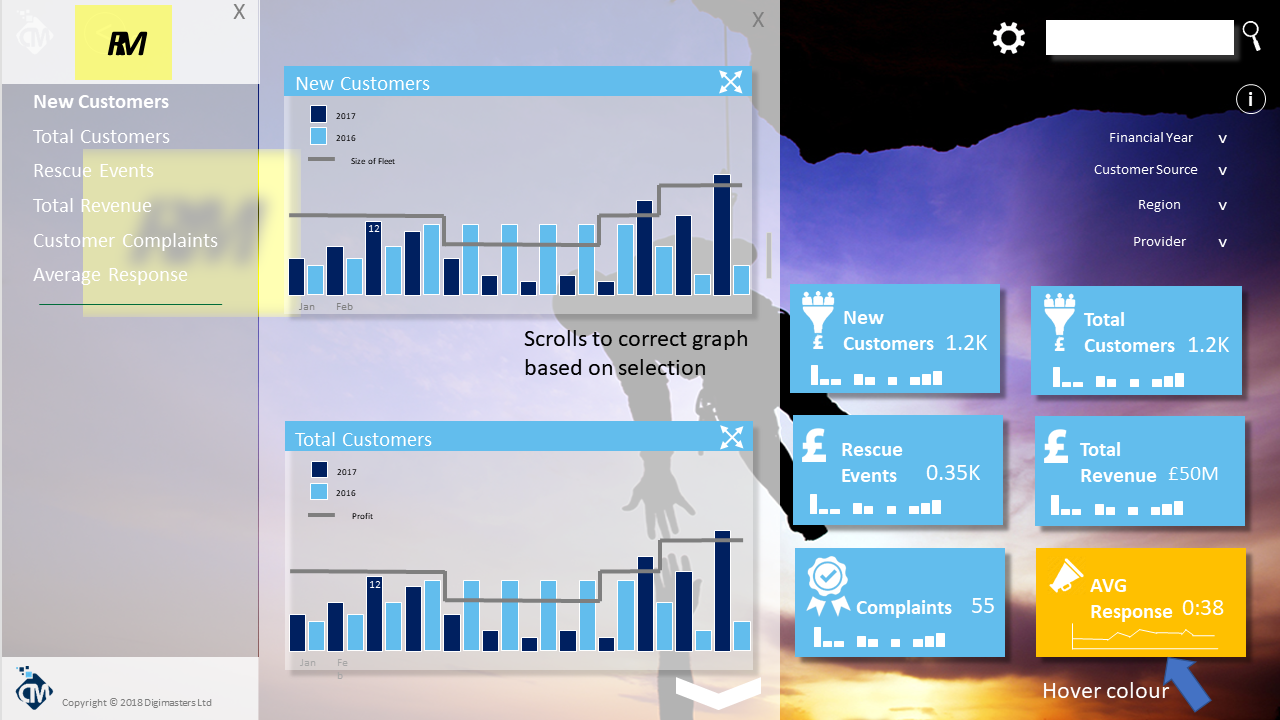 In this example we can quickly see several things:
Do we have growth in customers?
Do Rescue Management's costs might be increasing as the number of rescue events are increasing?
Do complaints following a similar trend?
How Rescue Management's fleet is able to support the customer base by tracking the average response and handling time of each event.
This is all fairly standard descriptive analytics with drill-down filters. Clicking on each KPI pops out more detail on the trends with a year on year view and potential correlations in the detail between the metrics.
This example template also demonstrates to the users how over time, more metrics and analysis can be added to the app, and how users can create their own metrics through self-service. It is key to show how the UI will scale over time and be able to absorb new insight, as the user base expands and matures into a data-driven organisation.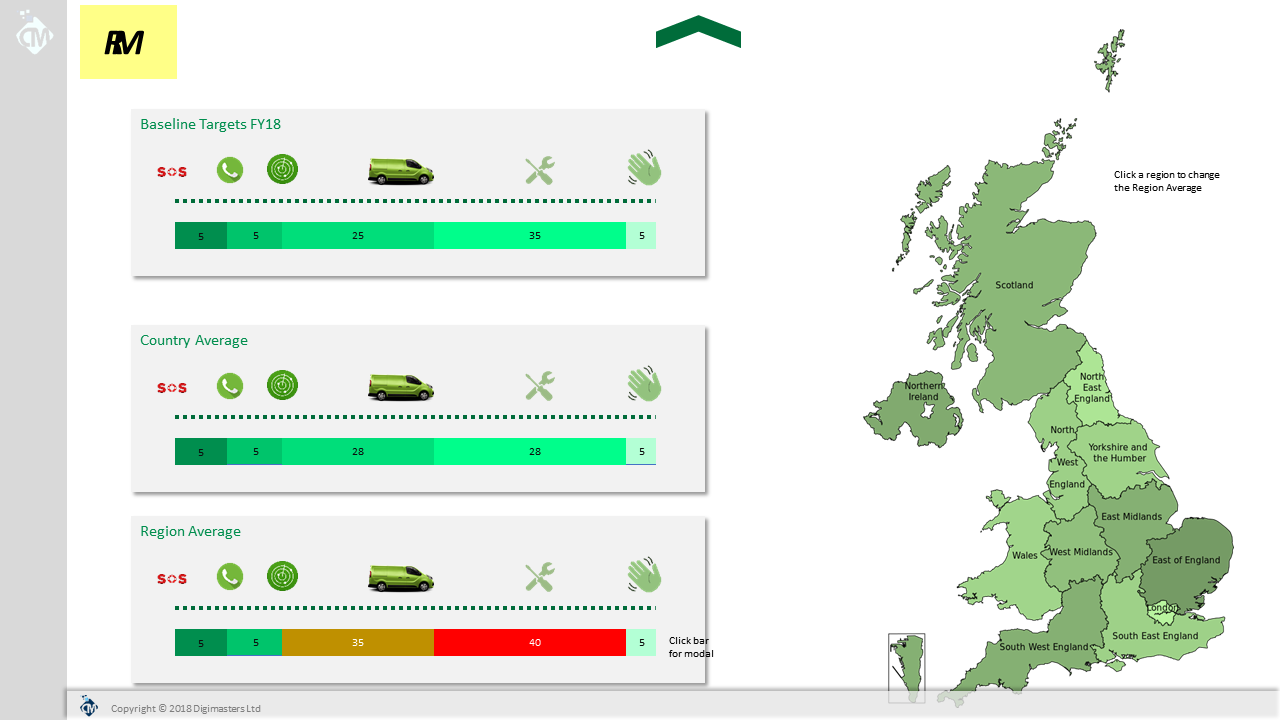 Hitting the down arrow or swiping/scrolling will unveil the second part of the illustration. This design is taking the output of some complex customer analytics work, as well as logistic and network analytic modelling and creating a very simple visual which demonstrates what the target handling times are for:
Answering a call
Triaging the issue
Identifying an engineer
traveling to the customer
Attempting to resolve the issue
Finally, wrapping up the event and leaving for the next event
The live app uses a lot of historic data combined with customer satisfaction information to calculate the nominal/optimal response times. The app visualises the actual times for the country with a drill-down to specific regions allowing a user to investigate which areas are performing well or need additional support.
In order to make sure a user understands why targets are being missed, we want the user to have an efficient user experience. To this end we have included drill-down capability into the specific events. This allows a user to identify the root cause of a delay and potential complaint. If you look at the table, you can also see more advanced analytics simplified into a single column called "Customer Life Time Value". In this app, a user can sort by customer value in order to prioritise which events they want to investigate further.
Now this is all just an illustration, but combining this with our visual analytics delivery methodology will mean that the application will start delivering value to the end users immediately and be ready to adapt to changing requirements and demands as the user get used to having data at their fingertips.
The final design stage is an interactive illustration. This is when we focus on making sure the user experience and insight being provided is fit for purpose. This entire process can take as little as two weeks if done correctly, but ultimately depends on the complexity of the use-cases and the availability of key stakeholders
I hope you find this overview of a small part of our guided visual analytics delivery methodology interesting. Please check out our other use-cases in our demo section on our website.
Please subscribe to us on YouTube and follow us on Linkedin.