2018-04-30
- By Adam Nagus

This blog will focus on summarising the major keynote announcements from the Tuesday keynote and give you my opinion on what the future holds for Qlik and its leadership. I shall also cover some of the questions I raised in my previous blog which focused on my decision to attend Qonnections written a week before the conference started.
Contents
Part 1

: Mike Capone (CEO). Key messages and New Faces
Part 2: Mike Potter (CTO) James Fisher (SVP Strategic Marketing). Demos, New Features, Role Playing, Cognitive, Qlik Core, Big Data Index (BDI)
Part 1: Mike Capone (CEO). Key messages and New Faces
Qonnections
For more detail on Qlik and Qonnections, please take a look at the blog post linked above. Qonnections was originally a partner-focused event and has typically taken place either very close to the US (Bahamas in 2013) or within the US (Florida and Texas) since the last European Qonnections in 2009 (Barcelona). My experience now covers the last six years.
Taking centre stage for the first time were Qlik's new CEO Mike Capone together with some older faces in new roles. Rick Jackson, Qlik's CMO, kicked things off on Tuesday's keynote. On Monday, Rick introduced lots of great new content for partners, however Tuesday's focus was on the current state of Qlik's business and what we should expect from Qlik's products and platforms in the near future.
I was interested to see that Cognizant are again the top sponsor for Qonnections alongside Jedox. As a side note, I did attend some interesting and innovative talks by Cognizant on their design-led thinking approach to visualisation and artificial intelligence (AI), delivered by Poornima Ramaswamy, AI & Analytics Practice Lead for Cognizant. Over the last few years, Cognizant have demonstrated a lot of public support for Qlik; however, I have not seen or heard of much of the innovation spoken about, beyond Qlik sponsored events. If you are working with Cognizant on Visual Analytics focused projects I would love to hear more real-world stories on their growing capabilities and their transformation from an outsourcing model to a more value-focused consulting and innovation organisation.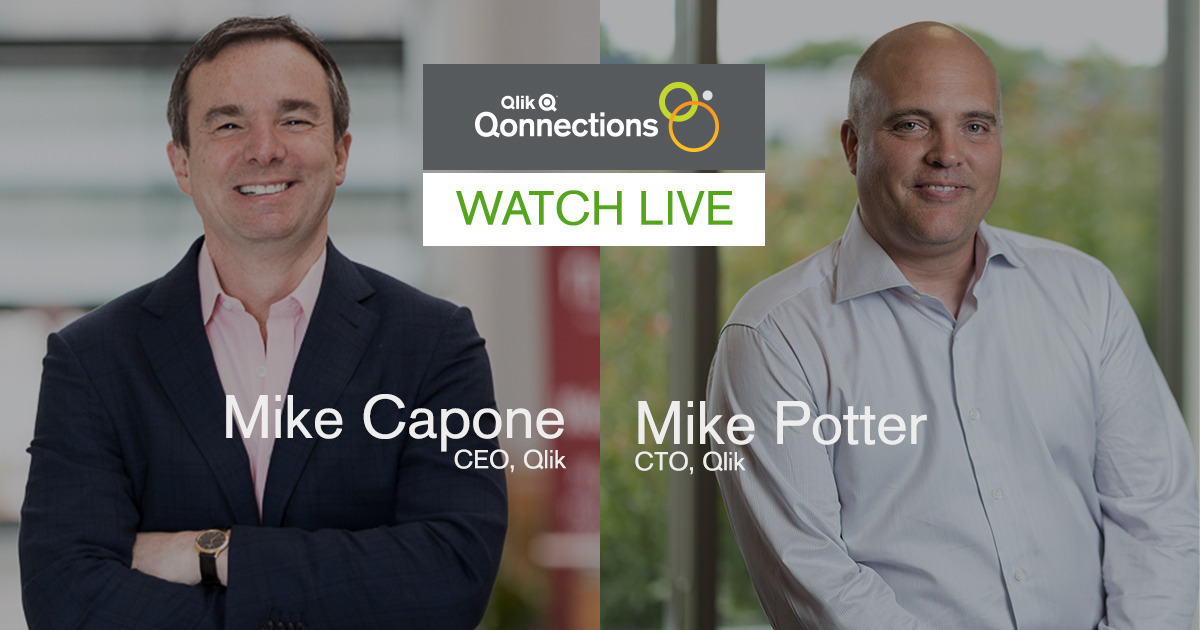 The theme for this year's Qonnections was "Disrupting Business as Usual" and Mike Capone took the stage to deliver "the CEO stuff" and introduce what disrupting really means to Qlik. This was my first time seeing Qlik's new CEO in action and I enjoyed Mike's relaxed style of delivery and fairly dry humour. He came across as CEO at his own user conference, knowing that he is supposed to be super hyped and positive, while avoiding the trap of being a cliché and mimicking many current American digital start-up founders and CEOs.
The Numbers
Mike Capone ticked off the headline numbers briskly hitting
Total Qlik customers
Very high retention rate amongst Qlik customers
Approaching 2000 partners
Primary focus on innovation
Continuing pivot to focus more on enterprise accounts
The remainder of Mike's introduction focused on digital transformation and the opportunity visual analytics has over business intelligence, which only reaches about 25% of people within an organisation.
Next up was a few of the typical elements we now expect from Qlik such as a focus on an open platform with "APIs everywhere". Qlik is a platform and not just a couple of data visualisation tools, as evidenced by their hybrid cloud capability and this year a new emphasis on embedded analytics with Qlik Core (more on this later).
Mike's final messages were focused on why customers stay with Qlik and explained why Qlik has a customer loyalty score over 15% higher than the industry average. It doesn't come down to how many visualisations it provides out of the box (possibly a nod to a certain well-known competitor). It also doesn't come down to bundling the software with other products (possibly a small dig at Microsoft). The secret to Qlik's customer loyalty is the value realised by users of Qlik's platform.
We are going to see a lot more about data literacy this year from Qlik. I spoke with different education, strategy and consulting leaders in Qlik and there is a real strategic drive to educate the business masses on data. This has always been a big problem for the self-service evangelists, who are so adamant that data democratisation is the solution for everything. They forget that not everyone is as literate as the next person, let alone data literate when it comes to interpreting numbers, charts and statistical output. Qlik straddles both the guided analytics and the self-service paths and are taking it upon themselves to drive education through data literacy, in order to create more informed users and above all, higher user numbers for their platform.
Mike then took a little jaunt into the audience to talk to strategically placed people; this allowed us to hear an overview of what digital disruption means to:
Karthik Krishnamurthy - Global head of digital for Cognizant,
Sam Wilon - Director of BI at Verizon and
Eric Ast - Director of Data & Analytics at C40 Cities Climate Change Leadership Group.
Filling a brand new position at Qlik, Roberto Sigona is the shiny new Chief Customer Officer (CCO) and has been at Qlik for four weeks. Roberto is primarily focused on Qlik's "Professional Services" capability, education teams and also "Customer Success". I was fortunate enough to have a 1-2-1 with Roberto where we discussed the new role and Roberto's experience and passion for customer success. With all the changes in Qlik's leadership this year, I am excited to see how Roberto as the CCO can drive more value and momentum around customer success stories, rebuild the hype and especially the lead Qlik has previously enjoyed in the visual analytics technology space.
And Finally...
As a quick tease before the product teams take the stage to cover off what most of us are here to see, we did get some product announcements from Mike.
More focus on migration tools, making it easier to move to Qlik's Qlik Sense platform
A holistic new hub across QlikView and Qlik Sense (no more access point!)
One user, one licence, one experience - All QlikView users will also be Qlik Sense users on the same licence (with a small uptick in maintenance costs)
In Part 2 I will summarise the remainder of the event which focuses more on product announcements from the recent April 2018 release and also what is coming after the June 2018 release of Qlik Sense.