2018-05-17
- By Adam Nagus
Gartner predicts that over 50% of CDOs will fail in their role. [2016, Gartner] This blog will focus on identifying the top few reasons I believe why Gartner makes that prediction, based on my own experiences working with CDOs, Heads of Data, Director of Data and Analytics, etc.
If you work in an organisation that has attempted to successfully run a transformation programme such as integrating a new CRM, ERP or Billing system and the data migration or analytics was either not prioritised or even descoped from the programme's core budget, then you probably need a Chief Data Officer. What I mean by that is that you need a data champion with a voice that is senior enough for other C-Level positions not to dismiss out of hand.
There are many other factors that may suggest a company would benefit from a CDO. Maybe because there are silos of data all around the business or shadow IT analytics platforms hidden on random clouds or outsourced to a digital agency partner. Oh, and what about the fact that no one can agree on how to define what a customer is or how to count them? Has a customer churned?
What is a Chief Data Officer?
"The Gartner CDO Survey found that support for the CDO role and business function is rising globally. A majority of survey respondents reported holding the formal title of CDO, revealing a steady increase over 2016 (57 percent in 2017 compared with 50 percent in 2016). Those organizations implementing an Office of the CDO also rose since last year, with 47 percent reporting an Office of the CDO implemented (either formally or informally) in 2017, compared with 23 percent fully implemented in 2016." [Gartner]
Garter defines a CDO as "The CDO is a senior executive who bears responsibility for the firm's enterprise wide data and information strategy, governance, control, policy development, and effective exploitation. The CDO's role will combine accountability and responsibility for information protection and privacy, information governance, data quality and data life cycle management, along with the exploitation of data assets to create business value."
Digimasters believe that a Chief Data Officer is a person who is excited and passionate about data and how data can drive new value and efficiencies across your business. The CDO is NOT the person that is accountable for anything to do with data. Rather he/she SHOULD BE the evangelist, curator and architect of how data should be managed, stored, governed and processed into insight for the benefit of all business units/functions across the organisation.
My own definition is careful to not set the expectation that everyone else in an organisation can dust their hands off and say that data is not my problem and decide all data issues and ownership are now down to the CDO. Gartner's definition doesn't say the CDO is accountable for all data, however it has been interpreted in that way in some companies.
What makes a good CDO?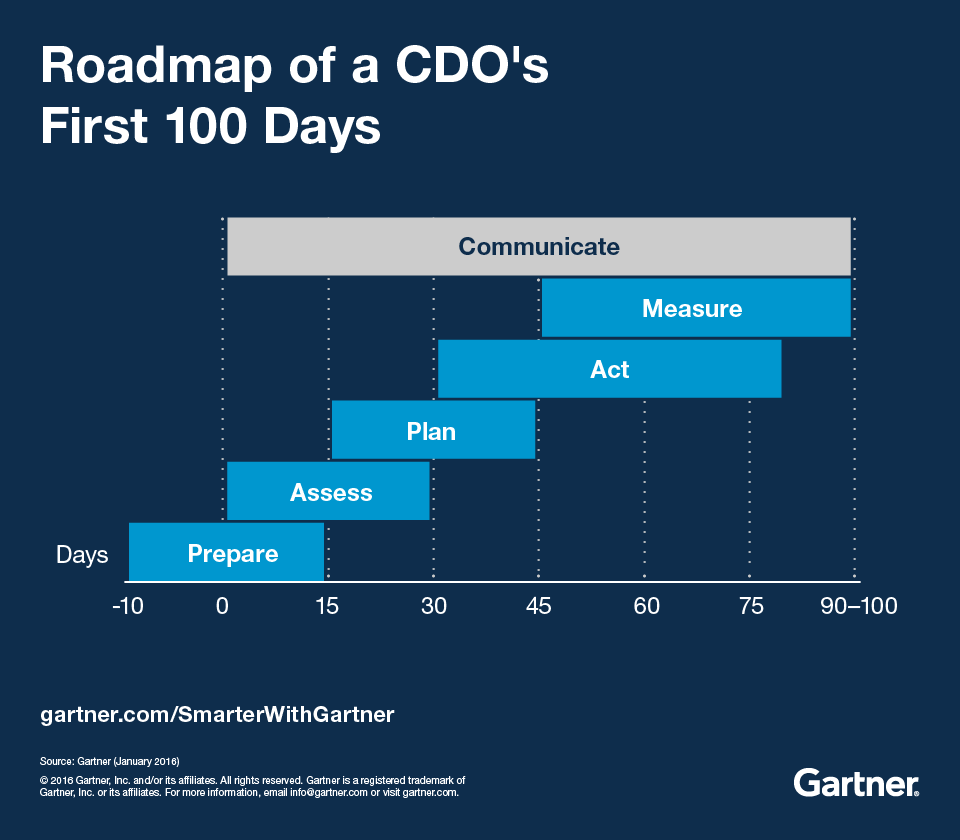 When looking for a CDO for the first time or even to replace an outgoing CDO, it is difficult to define exactly what you want in a candidate without creating a role for a "unicorn candidate" which doesn't exist (or is extremely difficult to find, so maybe a Loch Ness Candidate).
Initially a CDO will need to focus on relationship building, working out how to work with IT, the CTO function, CIO, CCO, CMO, CFO etc. It isn't practical to say that there should be no cross over in responsibilities between the CIO, CTO and CDO. In practice, in large organisations, there will always be some overlap, so in the real world it is about working together, compromising and working towards a common vision.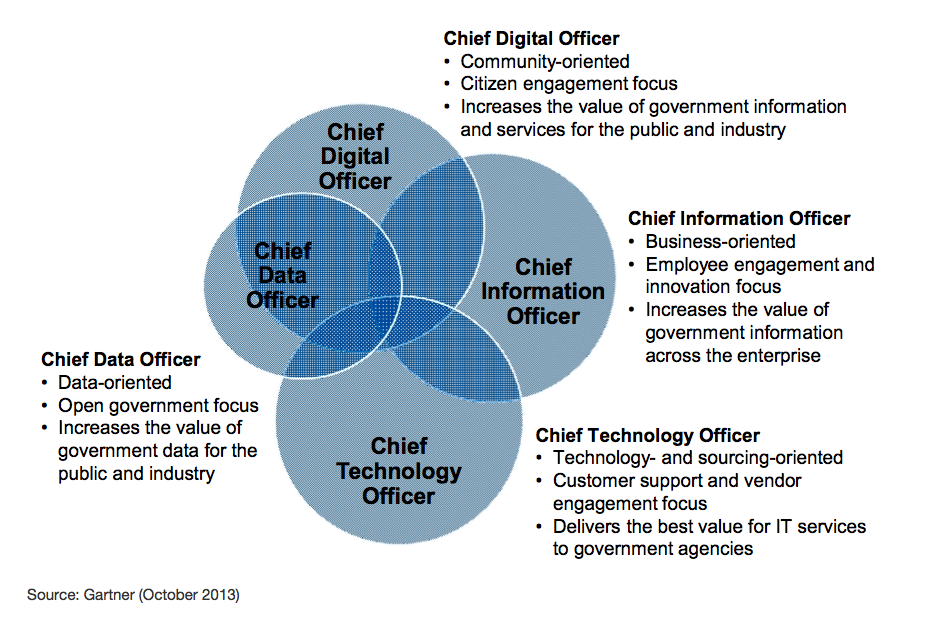 Industry experience is important for a CDO as even though they are called a Data Officer, it is insight and information that is the currency they are there to generate. Processing data into useful information requires an understanding of an industry and your organisation's customers. Someone who has not worked in a B2B environment or wholesale, will find it difficult at first understanding the processes and common issues your organisation experiences. For example, in the Pharmaceuticals industry, most companies do not have a direct relationship with the people who consume their products (patients) and instead must work with health care providers and other distributors. Pharma is also heavily regulated with many different policies, rules and laws depending on the region and country the customers are based. For a CDO attempting to create a single version of the truth and global governance strategy, it makes everything much more complex as each country will likely have specific customisation requirements.
Technical experience is an area that causes the most debate when looking for a CDO. How important is it for a CDO to have had hands on experience using the technology designed to implement their strategy and vision?
Some people believe that someone at C-Level does not need to have done "the detail" in the past and that the other two areas discussed above are more important. I am somewhere in the middle of the pack. I believe that a CDO doesn't need to have coded Scala, deploying an HDFS data lake in a previous role, however they should be aware that Scala is a hard to find resource when compared to SQL and that the average salary of a Scala/big data engineer is &pound70k in London compared to a SQL engineer's &pound50k.
I also recommend CDOs to build relationships with senior people in large technology firms. I wrote previously on the benefits of attending conferences hosted by technology companies like Qlik, Tableau, Amazon, Alteryx etc. Conferences are great venues for learning about what the technology roadmap will enable in the next year or two, which should feed into the CDO's strategy for his or her company. When interviewing a CDO, ask them about their network and things like their relationship with the CEO or CTO of Looker, and are they attending the Exasol conference in Berlin next month? Why is this important? Well that brings me on to my next point.
How many people have 10+ years in your industry with great relationship building skills and a strong technical background? Probably not that many, so the answer may be to focus on relationship building and one other (industry knowledge vs technical experience). A CEO looking to hire a CDO should look at a candidate's network and if they have a team of people they are interested in bringing over with them. A CDO that understands that they will need a pyramid of talented people working for them to mitigate gaps in their knowledge, skills and experience. This is better than someone with all the perfect skills and experience which creates a bottleneck around themselves.
At Digimasters we focus on supporting CDOs by providing guidance on the technologies, the latest methods, and processes. We also advise on experiences and lessons around use-cases e.g. implementing a customer-centric data strategy for industries like Banking, Insurance, Telcos, Pharma, Retail, etc. Our network of technology partners, boutique system integrators and our own delivery capabilities grow every day to support CDOs, Heads of Data, Directors of Analytics, etc.
Where should a CDO fit into the organisation?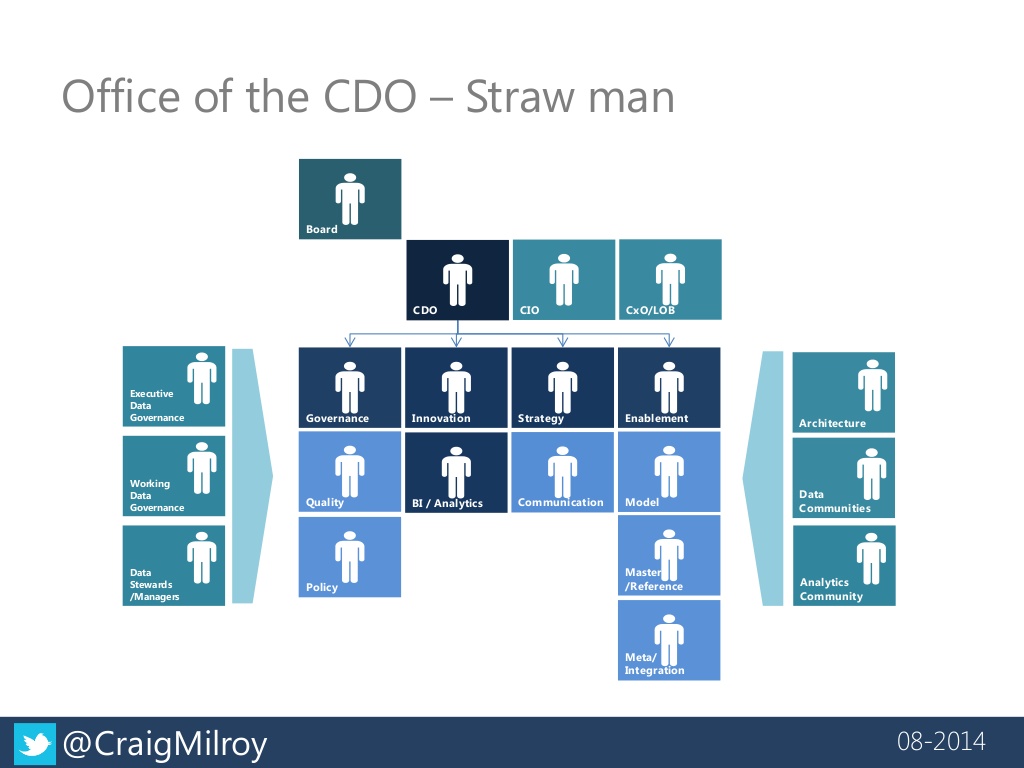 So where do you create the CDO function and what level of reporting and seniority do you expect?
Level
If you're creating a C-Level role then you are expecting a level of accountability and experience on par with other C-Level roles such as the CFO and CIO, so why in certain organisations is the Chief Data Officer reporting to the Chief Digital Officer, who intern is reporting to the Chief Technology officer who finally is reporting to the CEO?
When deciding on taking a role as a CDO, take some time to understand how far removed you will be from the CEO and what that means when it comes to how important data is to an organisation.
IT/Business
Understanding who you report to in an organisation is important, however so is understanding if you are working within the IT organisation or a business function. CDOs that sit inside IT tend to have limited budgets, resources and most importantly lack the influence to drive cultural change across the organisation.
A CDO will be a force for change in most organisation when attempting to create a data driven culture or role out self-service analytics. Will other areas of the business see you as someone who understands their current working processes and frustrations with IT or will they see you as another IT executive focused on tools, security and try to take away their beloved excel spreadsheets or the tableau server under their desk?
Top 5 reasons why a CDO will fail
This section works as a summary of the above. My top 5 reasons for failure are:
Failure to do continual expectation setting of their leadership and the business stakeholder

- This is also a common mistake for consultants so something I am very much aware of in my own experience. A CDO must continually remind everyone of their vision and that they are not there to take accountability for all data issues across the organisation.

Position in the organisation

- This is the failure of the existing C-Level community to recognise where the CDO should be positioned on the org-chart.

Budget

- a CDO who does not control their own budget and must spend time creating many small individual business cases for tactical "wins" before they are trusted with something a little larger to implement their true vision and strategy..

Support

- a CDO who does not create their pyramid of trusted advisors made up of FTEs, Consultants and Technology partners correctly. I talked about a CDO that thinks they know everything and may not want outside support from companies like Digimasters, compared to CDOs who know their weaknesses and identifies innovative partners with beneficial experience to join their team.

Culture

- Analytics is an area that moves extremely quickly and with all the new areas being developed under the AI banner, it is more and more important to understand that a CDO must be allowed to fail on certain endeavours. Setting up a data science function is partly to do research into new ways of looking at data, identifying if a dataset is useful and can provide new insight, however sometimes the simple answer is that it isn't useful. If your organisation's culture does not tolerate any type of failure, then creating a CDO function is probably not right for your organisation.
I hope you found this article interesting, thought provoking and helpful. Please give this a Like on LinkedIn and would love to hear your thoughts in a comment below or on the LinkedIn post.
Please check out our other blog articles or try some of our visual analytics demos. If you would like to setup a meeting to discuss anything your have read or heard on our website, then please click here.